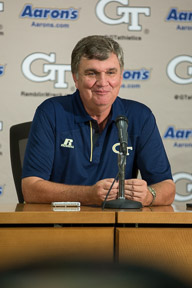 ATLANTA, GA - After the team's third practice of Fall Camp 2014, Georgia Tech head football coach Paul Johnson spoke about the team and fielded questions from the media. While confirming that Justin Thomas #5 was the starting quarterback and Tim Byerly #18 was the backup as it stands right now, Coach Johnson also pointed out that there were four weeks to fall camp suggesting that anything could happen before the season started.
Thomas, a 5'11 185 pound redshirt sophomore from Prattville, AL, is recognized for having the speed to get to the edge and the quickness to make defenders miss. On the other hand, Byerly is a 6'0 215 pound redshirt junior from Alpharetta, GA and a transfer from Middle Tennessee, is seen as a tough inside runner that can fight for extra yards after contact. "Justin is more of a 'make you miss' guy and Tim is more of a 'run through, run over you' guy," said Johnson while simplifying differences between the two quarterbacks. Coach Johnson also reiterated that, "they both can do what we need to do in the offense, don't think we'll need to change [the offense] for one or the other."
Heading into his seventh season at the helm of Georgia Tech's football program, Coach Johnson conveyed confidence in the players, their attitude, and the team as a whole. "I feel good about their work ethic and the way they work, they are a pretty tight-knit group, and I think they have high expectations for themselves. They want to be good and I think they believe in what we're doing," said Johnson.
Regarding depth at specific positions, Johnson highlighted that the majority of wide receiver will be back from last season and a lot of players at the A-back position had a lot of experience. Although Robert Godhigh #25, who was the team's 2nd leading rusher last season with 744 yards and averaging a whopping 9.4 yards per carry, will be missed; Johnson listed six familiar names at the position that all have had been part of the A-back rotation for the past few years. Among those that have started games in the past, Georgia Tech will return Deon Hill #31, Charles Perkins #21, Synjyn Days #10, and BJ Bostic #7.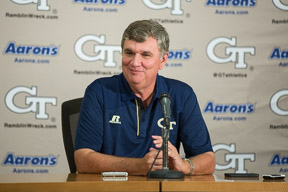 "Right now there's a competition between Freddie Burden [#58] and Thomas O'Reilly [#77] [at center] but we'll be fine there," said Johnson of his offensive line. "I feel real good about [the offensive line]. We are probably more athletic on the offensive line than we've been, maybe not as much experience but a little bigger and more athletic." Johnson later continued, "we've got more depth there than we've ever had. We finally got the numbers that you need to have so we'll probably play a few more players there than we have in the past."
On the defensive front, Georgia Tech needs to replace the school's career sack (31.5) record holder set last season by Jeremiah Attaochu #45 who was drafted by the San Diego Chargers as the 18th pick of the 2nd round in the 2014 NFL Draft. Johnson emphasized the need to play by committee on the defensive line with experienced Adam Gotsis #96 and Shawn Green #97 anchoring the interior and looked forward to having the younger players like Francis Kallon #92 and Pat Gamble #91 step up this season. At the ends, Johnson expects those positions to be sorted out in fall camp but highlighted true freshmen KeShun Freeman #42 from spring practice, Tyler Stargel #99, Roderick Rook-Chungong #41, and Nick Menocal #48.
Coach Johnson also acknowledged the concerns about the experience lost from the team a season ago, "there's six guys in NFL camps right now. So we've got to replace those guys. We've got to replace a lot of experience on the offensive line. So there's question marks."
"Are we going to be the most talented team that we've had here? Individually? Probably not." Then the head coach contended, "but that doesn't mean you're not going to be the best team. We'll have to see."
Georgia Tech kicksoff its 2014 season at home against Wofford at 12:30 PM ET on Saturday August 30th, 2014. For the rest of the schedule, please click here.