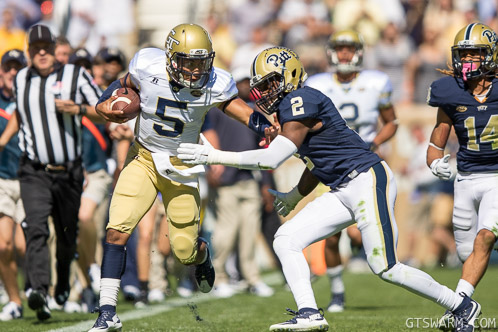 ATLANTA, GA – Another week, another loss. For the fifth straight week the Yellow Jackets left the field defeated, this time falling to the Pittsburgh Panthers (5-1, 3-0) by a final score of 31-28 Saturday afternoon at Bobby Dodd Stadium.
With the loss Georgia Tech (2-5, 0-4) sinks deeper into unfamiliar territory. Two noteworthy streaks are increasingly at-risk – number of years at .500 or better in ACC play (20) and consecutive bowl appearances (18).
Perhaps most surprising is the timing of the team's season-long swoon, coming one season after hoisting the Orange Bowl trophy. Few, if any, teams have fallen as fast and as hard as the Yellow Jackets this year. The season certainly hasn't met anyone's expectations around the program.
Asked whether he was stunned about the results thus far, Head Coach Paul Johnson said, "I don't know about stunned. I think just flustered. The way that game ended is perfect with the way the season's gone."
Looking closer at the game the Yellow Jackets had their opportunities to take control along with disconcerting patterns of inconsistency. Tech finally found some of their magic again on offense, finishing with 482 total yards on just 55 plays. Quarterback Justin Thomas and freshman running back Marcus Marshall had big games on the ground, accounting for 122 and 159 yards respectively.
"I think as a whole everybody was just doing their assignment and doing it well," said Marshall.
For a team that averaged 8.8 yards per play on offense, the Yellow Jackets could never take control of the game due to breakdowns in key phases. It has been a disheartening pattern for all involved. Said Johnson, "I'm stunned we're not better in some areas of the team than we are."
The defense was challenged once again, and it was never more evident than when it mattered most in the fourth quarter. The Jackets were unable to stop Pittsburgh on two fourth down tries on the Panthers' final drive, resulting in a game-winning 56-yard field goal.
The made field goal by Pittsburgh was a microcosm of special teams play in total throughout the game, a phase the Jackets have seemingly lost every game during their 5-game skid. While long-snapping was no longer an issue, Tech instead allowed a blocked field goal attempt and continued to struggle on kickoff returns (two attempts for 38 total yards).
On offense the Jackets failed at times in pass protection, an area Johnson deemed "anemic". In the grand scheme of things maybe those breakdowns shouldn't have mattered in the outcome given the offense was only forced to punt three times. However Tech put the ball on the ground three times as well, losing one, and ultimately lost the turnover battle by two.
It's been oft-repeated by Johnson that the Jackets have a razor-thin margin of error. The issues are correctable but they are significant and plentiful. And it doesn't get any easier next week. On deck are the undefeated Florida State Seminoles, a team that handed a red-hot Georgia Tech their only loss in its last seven games of 2014.
In a 2015 season that has ostensibly played out contrary to the year prior, perhaps this is perfect opportunity for the Jackets' to reverse course.